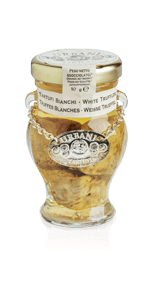 Versatile and ready for use
Available in glass bottles or boxes for all of the most common types, whole truffles and truffle carpaccio (sliced truffles) are preserved with natural ingredients like truffle sauce, which is made from water, salt and small pieces of truffle, or in oil (Mélange) in an imaginative mix of truffles of all the various types, which enrich it with a flavour that is truly special and unmistakeable.
They are already clean and ready for use.
Simply drain and pat dry the whole truffles with absorbent kitchen paper and then slice or grate them as you would do with fresh truffles, with an end result that is in no way short of what that season's truffles deliver.
Pre-sliced truffles are ready for immediate use, and they are easier and more effective in quick and extremely practical cooking, and perfectly adapt to the aesthetic needs of every dish.
They are recommended for first courses, meat or fish and as fresh truffles, whole ones give room for imagination, respecting the combinations of taste which are truffle classics. This is especially true of black truffles, which in the classic recipe are prepared in the traditional sauce with salt, pepper and a clove of garlic that has just been browned in olive oil (which should be poured away before serving).
Truffle carpaccio cut into slices is perfect for enriching meat or fish carpaccio and can also be used to season first or second courses, or simply as an addition to mixed fresh salads. A touch of elegance to even the simplest dishes.
Recipes white Truffles and Carpaccio
Discover the selection of recipes with truffles and serve prestigious dishes and tasty creations.