to learn about the history and range of uses for truffles
Here is where taste, culinary innovation and the art of the truffle are born.
The Urbani Truffle Academy (Accademia del Tartufo Urbani) is considered the first in the world in which the art of truffle cuisine is taught. It holds a large number of international events and cultural presentations every year.
It is a genuine truffle school.
The continuing search for new flavours has allowed the Urbani Group to strengthen its position as a point of reference not just for chefs from every part of the world but also for truffle lovers.
The Truffle Academy is a gastronomic-technological centre, where everybody can bring their own knowledge of truffles and derivative products.
It is not just a cooking school, but also a school of culture and fine living, which aims to improve the quality of food on the table.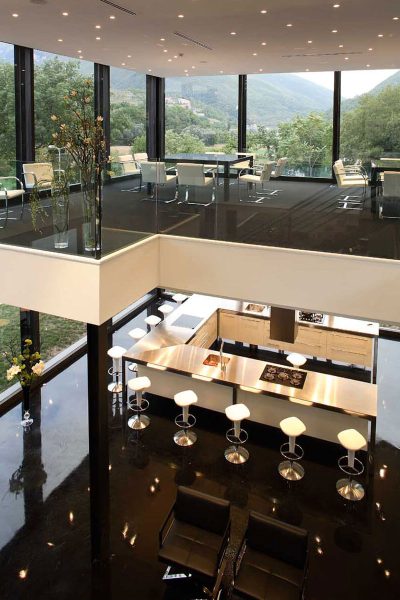 The Truffle Academy is much more than just a simple company, and in the building every visual barrier has been taken down so that everybody can easily build relationships and synergy.
The Academy is made up of a succession of open windows and transparent panels, to stay in contact with the land of truffles.
Absence of privacy pushes to an intermingling of different skills and an interchange of cultures, creating an easygoing atmosphere that promotes interaction.
The informal areas encourage people to get together and their function isn't defined by the architects but by those who effectively use them, like chefs, experts, connoisseurs and students.
The world's best chefs use the finest truffles in their kitchen, because truffles are an important element that can add taste, charm, class and uniqueness to the dish.
Urbani changes its production line according to demands and the suggestions that come from great chefs, and supports them in publishing their books. As a result, Urbani Tartufi is now cited as editorial sponsor in over 200 international publications in the sector.