Irresistible delights with truffles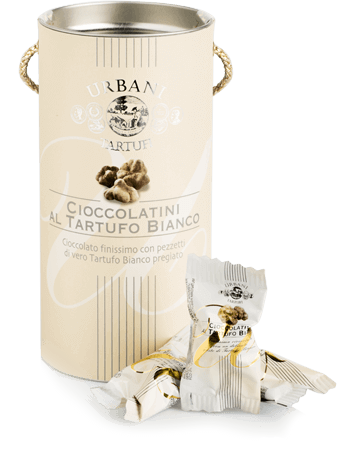 Great success for black truffle chocolates, as well as for the more recently-launched, and still more prestigious, white truffle chocolates.
The combination of very fine white chocolate with pieces of highly-prized white Alba truffle and hazelnut creates a unique and heady result, which really should be tried!
White truffle chocolates are a particularly elegant present for every occasion.
They are also available unboxed and loose to go with coffee or for serving at the end of a meal. Our white and black truffle chocolates are also widely used by chefs throughout Italy and the world.
Truffle tiramisù prepared with these chocolates, ice cream that is delicate and complex but truly exquisite, has become famous and it is an indisputable proof that truffles are a universal accompaniment, and also delicious in desserts.
Discover the selection of recipes with white truffles and bring refined dishes and tasty creations to the table.