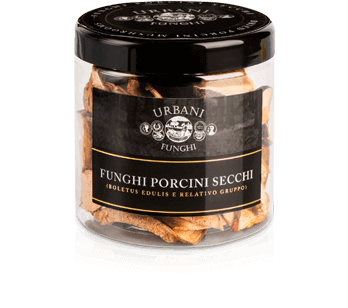 Urbani has always been synonymous with excellence in the selection and commercialisation of special forest foods.
Today, as in the past, the Urbani company uses the talent inherent in its DNA to produce some of the most delicious specialities in the food world. Amongst the numerous specialities produced under our brand, worth mentioning are the lines of dried and frozen porcini mushrooms, originating in the best gathering areas in the whole of Europe.
Dry Urbani porcini mushrooms are a complete range of specialities selected after years of careful research and production.
We have many products that are made exclusively and in a way that ensures they are completely genuine: the mushrooms are treated as soon as they are picked, to ensure their unmistakeable organoleptic characteristics are maintained intact, and to guarantee high quality.
"Quality that you can see."
Only producers who are suitable to the characteristics of quality required are given the Urbani Funghi brand guarantee. Special attention is given to the packaging stage, which is required to ensure that the fragrance arrives intact to the tables of gourmet.
Urbani Funghi provides an assortment of products to a target clientele who seek out a product with value, one that is different, packaged in a way to bring out the best of the image and which maintains quality at a competitive price.
Choosing Urbani Funghi means working with a trustworthy partner who can ensure, as well as the advantages of the best selections, the trustworthiness of a professional and timely service.
Discover the selection of recipes with white truffles and bring refined dishes and tasty creations to the table.