Very quick, but very good!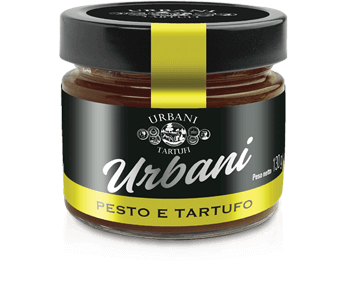 Quick, practical and tasty
In today's society, time is increasingly precious, but there is still the wish to satisfy even the most demanding palates.
To satisfy this need too, Urbani has created Pronti al Tartufo ("ready to eat and truffle flavoured") which can help you create dishes in just a few seconds with a surprising taste and an intense truffle flavour, which can raise the tone of every occasion to the feeling of quality that truffles always put over.
With this range, Urbani has joined the seasoning market with an offering of ready-made truffle-flavoured sauces with an original flavour, that are varied and personalised.
The line is made up of 7 items, with exclusive recipes that are ready to warm up or can be served cold for original aperitifs or antipasti snacks.
You just have to open the content and pour out the ready sauces straight into the pasta that has just been drained, or if you like you can make some tasty bruschettas, just by warming them in the oven without browning.
Fun and tasty!
Discover the selection of recipes with truffles and serve prestigious dishes and tasty creations.