Agnolotti con ripieno di funghi in consommé con "melanosporum"
The concept is based from an inspiration about the ancient Romans, where in the past they use to do infusions with truffle.
From this idea we start to create a dish.
We wanted to make a concentrate broth, so we start by a classic meat broth.
Being not happy, we added mix mushrooms and offcuts of truffle, until we found a perfect balance of flavours, Follow by adding a spoon of truffle cream, and a particular consistence of stuffing for the agnolotti, We end the dish with an armony of flavours.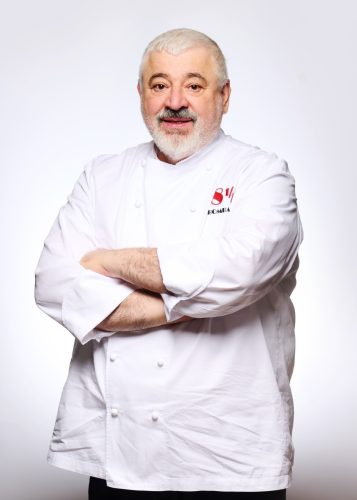 Ingredienti per il ripieno
700g funghi shitake
1 cipolla media tagliata a julienne
1 patata bollita
5 cucchiai di parmigiano
50g tartufo nero
Sale & pepe q.b.

Caramellare la cipolla e i funghi shitake e metterli da parte, unire al resto degli ingredienti in un robot coupe e passare fino ad avere una consistenza solida.
Riempire la pasta fresca e formare gli agnolotti.
1kg funghi shitake essiccati, precedentemente ammollati in acqua fredda per 6h circa
2kg ali di pollo
1 pollo arrosto
1 stinco di vitello
1kg girello di vitello
1.5kg funghi shitake scottati
2 carote
3 gambi di sedano
2 cipolle bianche
1 porro
1 ramo di rosmarino
1 rametto di timo
20pz chiodi di garofano
20pz bacche di ginepro
20pz pepe nero
20pz semi di coriandolo

Sbollentare le ali di pollo, lo stinco e il girello di vitello, unirli al resto degli ingredienti, ricoprire di acqua e far cuocere lentamente per 12h circa.
Filtrare il liquido e procedere con la chiarificazione per eliminare le impurità così da avere un brodo chiaro ed intenso.
Ingredienti per chiarificare il brodo:
½ l bianco d'uovo
1 petto di pollo
Crema di tartufo nero a centro piatto
Tartufo nero grattugiato con microplane
Erbe di stagione.
Per la crema di tartufo nero

1kg scarti di tartufo nero
½ cipolla bianca
1 gambo di sedano
1 carota
200g scarti di patata negra
200g porto
1l brodo di tartufo nero.
Scottare i vegetali con gli scarti di pata negra, aggiungere il tartufo nero e sfumare con il porto.
Aggiungere il brodo di tartufo nero e cucinare a fiamma bassa per 3h circa.
Frullare il tutto fino ad avere una consistenza cremosa.
Condividi
la tua ricetta
con @urbanitartufi